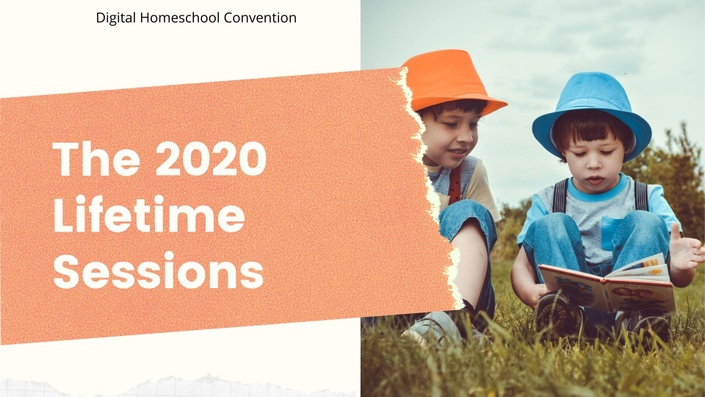 The 2020 Digital Homeschool Convention Lifetime Sessions
Homeschooling in the Midst of Global Pandemic
Welcome to the 2020 Digital Homeschool Convention!
Thank You To Our Sponsor

August 2020 Digital Homeschool Convention Schedule
Check Out Our Vendor Hall Below!
The 2020 Digital Homeschool Convention


What Makes Us Different?
What makes Digital Homeschool Convention different from other online conventions? We hold small focused conventions. We find that hundereds of speakers can be overwhelming. When a homeschool parent is looking to truly get something out of a convention, it can be hard to do so over all the noise of 30-50 plus sessions.
We choose a focus for each convention and choose our speakers and experts carefully. Then we tailor the session in a way that allows you to focus on one or two sessions a day and really enjoy them. There is no overwhelm or worry that you will miss something.


This Year's Focus:
Homeschooling in the Midst of Global Pandemic
These past few months have been like no other, and the upcoming school year promises to be very different from what we are used to. The homeschooling community is affected by the coronavirus pandemic in many ways. One is the influx of new homeschoolers joining our ranks. At our convention, we'd like to welcome all the new homeschoolers and offer special sessions for those who are at the beginning of their homeschooling journey.
Even seasoned homeschoolers find themselves stumped in this new reality when our children are no longer able to attend regular classes, go on educational trips, and meet up with their friends. And how do we handle the potential increase in screen time as our children's educational and social activities shift to digital format? We will address these concerns at this year's conference.
Frequently Asked Questions
When does the convention start and finish?
This year's convention is scheduled for August 2nd through 7th. On August 2nd, we will hold our first live session and the recorded sessions will become available to view. The recorded sessions will remain open for the duration of the convention, and the live sessions will be recorded and posted on the conference website within a day. Sessions will not be available until August 2nd. After the convention week is over, you will be able to purchase the complete session recordings.
If I purchase the sessions, how long do I have access to them?
How does lifetime access sound? After purchase, you have unlimited access to the sessions for as long as you like - across any and all devices you own.
I am a vendor looking to advertise in the convention, who do I contact?
That sounds wonderful! You can contact our team at
[email protected]
for our current rates and media kit.
How long will the Digital Vendor Hall be open?
Year round so you can shop amazing homeschool curriculum all year long!
I can't access the video sessions. What do I do?
They will not be available until August 2nd, when the convention starts. The first live session will also take place on August 2nd.
When do I get my 2020 Homeschool Shopping and Discount Guide?
The 2020 Homeschool Shopping and Discount Guide will be emailed to you on August 2nd, the first day of the convention, along with the reminder about the live and recorded sessions. This book is going to be jam packed with lots of valuable discount codes and savings galore!
I'm only considering homeschooling/ I am new to homeschooling. Is this for me?
Absolutely! In fact, this year many of our sessions are intended especially for families new to homeschooling.
Where can I find out more about my state's homeschool laws?
You can usually find that information on your state's department of education website, but HSLDA also has this helpful page: https://www.hslda.org/laws/default.asp.