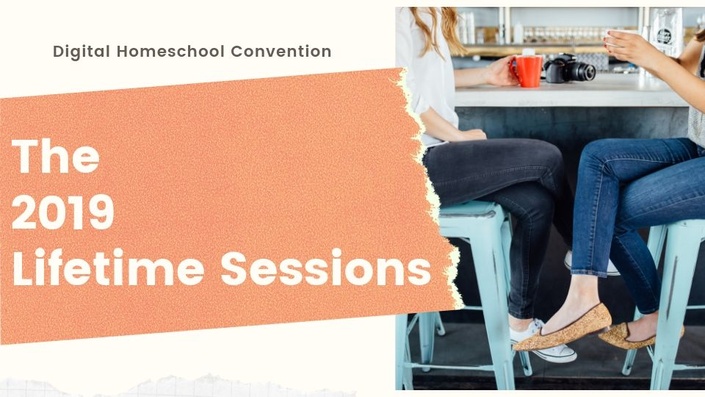 2019 Digital Homeschool Convention
Exploring Alternatives- Slowing Down, Finding Rhythm, Embracing Home Education Life!
Check Out Our Vendor Hall Below!
Course Curriculum
Presenting Sponsors
Available in days
days after you enroll
Vendor Hall
Available in days
days after you enroll
The 2019 Digital Homeschool Convention:

June 24th- June 28th 2019
The 2019 Digital Homeschool Convention is scheduled for the week of June 24th. All speaker sessions will be FREE for 5 days.
What Makes Us Different?
What makes Digital Homeschool Convention different from other online conventions? We hold small focused conventions. We find that hundereds of speakers can be overwhelming. When a homeschool parenting is looking to truely get something out of a convention it can be hard to do so over all the noise of 30-50 plus sessions.
We chose a focus for each convention and chose our speakers and experts carefully. Then we tailor the session in a way that allows you to focus on one or two sessions a day and really enjoy them. There is no overwhelm or worry that you will miss something.


This Year's Focus:
Alternative Methods and Slow Daily Rhythms
Our focus this year is on alternative versions of learning. We will learn about Charlotte Mason, Classical Education and Waldorf Style learning. You will learn about Slowing down with your family and how to truely enjoy your families natural rhythms.
I hope these sessions speak to you. I love to hear what you think about them. Don't be afraid to comment or email me if you have ideas or suggestions for the future either. Thank you and enjoy the convention!
Founder
Holly Chubb is a homeschool mother of 3. She is the founder and owner of The Digital Homeschool Convention and the owner of "At Home With Holly" a homeschool website. Her mission is to provide affordable resources to homeschool families everywhere, to make homeschooling easier and more affordable, and to create a successful learning environment.
Frequently Asked Questions
When does the convention start and finish?
This year's convention is scheduled for July 8th through 14th. On July 8th speaker sessions will be available to view. They will remain open 5 days after they become available. Sessions begin to come down in sequential order. Sessions will not be available until July 8th. After the convention sessions come down you will be able to purchase the complete session videos.
If I purchase the sessions how long do I have access to them?
How does lifetime access sound? After purchase, you have unlimited access to the sessions for as long as you like - across any and all devices you own.
I am a vendor looking to advertise in the convention, who do I contact?
That sounds wonderful, you can contact the sales team at
[email protected]
for our current rates and media kit!
How long will the Digital Vendor Hall be open?
Year round so you can shop amazing homeschool curriculum all year long!
I can't access the video sessions, what do I do?
They will not be available until July 3rd when the convention starts. The first set of videos will be available at 5 am EST on July 3rd.
When do I get my 2018 Homeschool Shopping and Discount Guide?
The 2018 Homeschool Shopping and Discount Guide will be emailed to you on July 8th, the first day of the convention, along with the reminder that the videos are now available to watch. This book is going to be jam packed with lots of valuable discount codes and savings galore!
I'm only considering homeschooling/ I am new to homeschooling in general is this for me?
Absolutely, in fact we have a session on being new to homeschooling that I think you will love!
Where can I find out more about my states homeschool laws?
You can usually find that information on your state's department of education website but HSLDA also has this helpful page: https://www.hslda.org/laws/default.asp